Founded in 1931, FAWCO is an international network of independent volunteer clubs and associations. There are 75+ member clubs in 40 countries worldwide, with a total membership in excess of 15,000. FAWCO serves as a resource and channel of information among its members, promotes the rights of U.S. citizens overseas; is active as a Non-Governmental Organization (NGO) with consultative status to the UN Economic and Social Council; and contributes to the global community through its Task Forces and The FAWCO Foundation, which provides development grants and education awards. FAWCO and The FAWCO Foundation also collaborate on emergency funding for disaster relief.
President Michael D. Higgins of Ireland applauds the work of FAWCO
22 March 2012
FAWCO was honored today by the visit of President Michael D Higgins to their annual conference held this year in Dublin. He was the Key note speaker and delivered a warm speech that reiterated the bond that Irish and Americans share and welcomed FAWCO to Dublin.
See President Higgins talk here.
As a sociologist and anthropologist who has studied migration, President Higgins said that American Women's Clubs overseas are an example of how new migrants into a country can thrive in the footsteps of those who arrived before them, to help cut through the confusions of the multiple challenges they face. "That all of you do this voluntarily means you see the tremendous value in not only helping new comers but in advocating for the women in your new communities and around the world," he said.

He also stressed the close ties between Ireland and the United States. "The moral demands of friendship are greater than those of justice," said President Higgins, paraphrasing the words of Aristotle. "The ties of kinship and affection between Ireland and the US are very important to us," he said. "These are constantly renewed by every generation."
5th World Conference on Women 2015 Announced!
JOINT ANNOUNCEMENT BY PGA AND SG on the occasion of the INTERNATIONAL WOMEN'S DAY
It happpened! FAWCO is pleased to announce that The UN in New York made an announcement on 8 March for the 5th World Conference on Women 2015! Congratulations to all who have been working towards this goal, our hard work has paid off. It is cause to celebrate and a wonderful way to finish International Women's Day 2012. This will be a new beginning for women of the world.
The President of the UN General Assembly, H.E. Mr. Nassir Abdulaziz Al-Nasser and the Secretary-General of the United Nations H.E. Mr. Ban Ki-moon would like to jointly propose the convening of a Global Conference on Women by the United Nations in 2015, twenty years after the last women's summit in Beijing.
AWOG and COCO-MAT collaborate on the "Heart Pillow" project
ATHENS, GREECE - 7 March 2012: FAWCO member club to Help More Breast Cancer Patients with Corporate Support - The American Women's Organization of Greece (AWOG) and the
successful Greek sleep products company COCO-MAT today announced their collaboration on the Heart Pillow Project, a volunteer effort started in Greeceby AWOG to support breast cancer patients with specially designed heart pillows that effectively help ease their pain.

The Heart Pillow Project pillows are designed and created to be placed under the arm to ease pain from the surgical incision and tension, along with helping reduce surgical swelling under the arm. To date, more than 2,400 Greek women have been given the heart pillows thanks to the efforts of AWOG volunteers.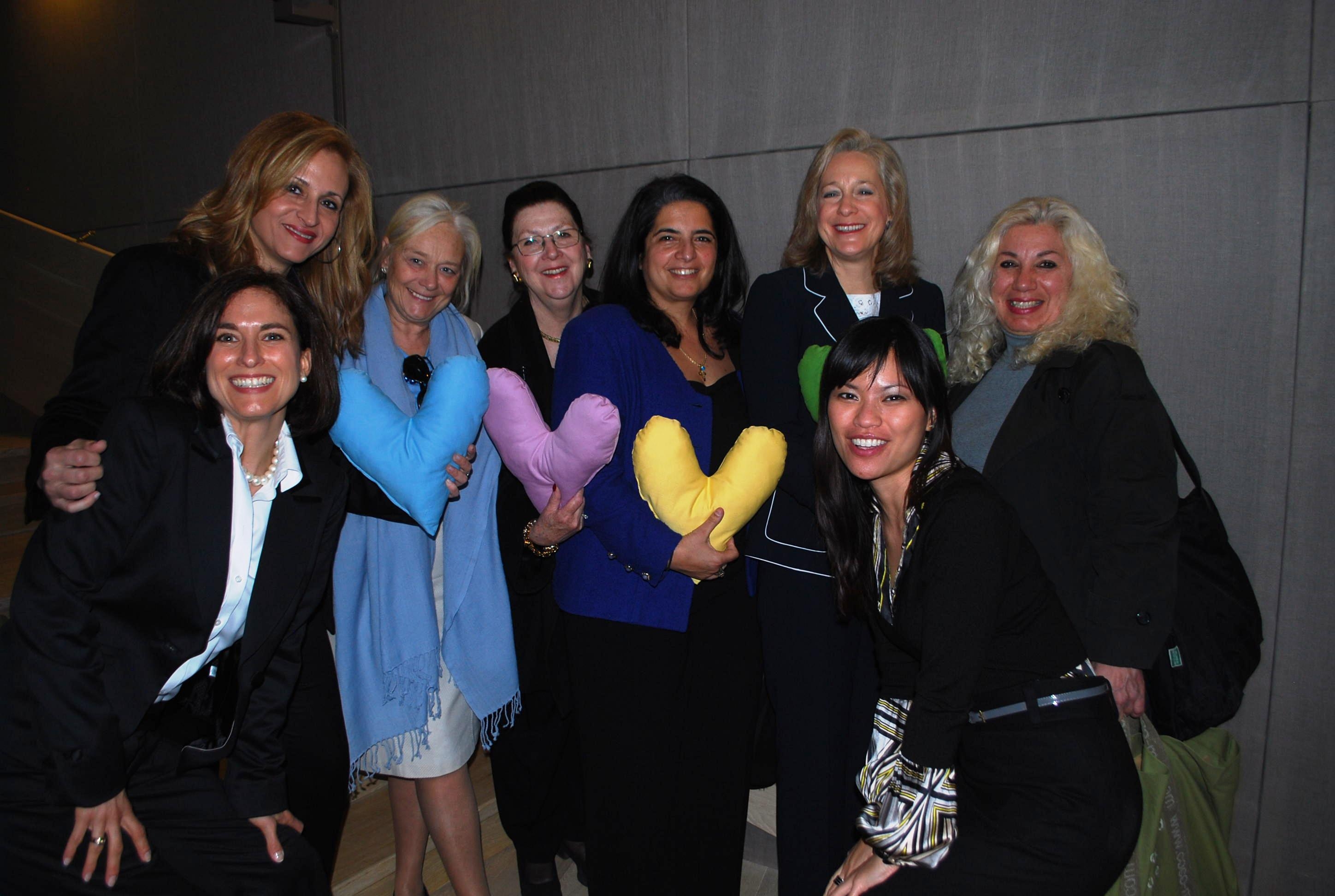 Ladies from FAWCO club AWOG pose after a successful press conference about collaborating on the "Heart Pillow" Project: L-R Silva Pourliakas, Nora Stamoulis, Janis Tripodakis, Kathy Klaoudatos, Grace Christovasilis, Mrs. Diane Smith, wife of the U.S. Ambassador to Greece and Honorary AWOG President, Marissa Tejada, Stacey Harris-Papaioannou
Happy International Women's Day 2012
International
Women's Day (IWD) was honoured the first time in Austria, Denmark, Germany and Switzerland on 19 March 1911.
International Women's Day is when women are recognized for their achievements and it is marked by thousands of different celebrations around the world. FAWCO is represented by Erica Higby at the Commission on the Status of Women at the United Nations Headquarters in NY and by Laurie Richardson who is participating in celebrations in Vienna.
Thousands of events are planned around the world. If you would like to join in celebrations in your country, go to IWD events which shows listing of events by country. Ladies, this is your special day-- enjoy it!
Read more ... for a brief history.
President of Ireland at FAWCO Conference
President Michael D Higgins, the ninth and current President of Ireland, will be keynote speaker at the FAWCO Interim Conference in Dublin, Ireland in March 2012. President Higgins is a passionate political voice, a poet and writer, academic and statesman, human rights advocate, promoter of inclusive citizenship and champion of creativity within Irish society, Michael D. Higgins has previously served at almost every level of public life in Ireland, including as Ireland's first Minister for Arts, Culture and the Gaeltacht. President Higgins has campaigned for human rights and written of conflict in many parts of the world, including such areas as Nicaragua, Chile, Cambodia, El Salvador, Iraq and Somalia. He spoke in the Dáil in defence of the 2010 Gaza Freedom Flotilla. In recognition of his work for peace with justice in many parts of the world, he became the first recipient of the Seán MacBride Peace Prize of the International Peace Bureau in Helsinki in 1992. Click here for our list of confirmed speakers.
<< Start < Prev 1 2 3 4 5 6 7 8 9

10

Next > End >>


Page 10 of 32