Founded in 1931, FAWCO is an international network of independent volunteer clubs and associations. There are 75+ member clubs in 40 countries worldwide, with a total membership in excess of 15,000. FAWCO serves as a resource and channel of information among its members, promotes the rights of U.S. citizens overseas; is active as a Non-Governmental Organization (NGO) with consultative status to the UN Economic and Social Council; and contributes to the global community through its Task Forces and The FAWCO Foundation, which provides development grants and education awards. FAWCO and The FAWCO Foundation also collaborate on emergency funding for disaster relief.
Calling FAWCO girls aged 15-17 - Searching for the Next Eleanor Roosevelt!
Hurry and apply, applicaitons must be postmarked 15 March 2013
Every year at Eleanor Roosevelt's home in Val Kill New York, the nine day Eleanor Roosevelt Girls Leadership Workshop takes place. This workshop for girls emphasizes leadership skills and self awareness designed to encourage young women interested in social justice issues. FAWCO is the proud supporter of this outstanding program and has had several daughters of FAWCO members attend. For more information on the program and to APPLY go to The Eleanor Roosevelt Leadership Center and for information on FAWCOs involvement and the past FAWCO girls who have attended go to FAWCO UN NGO.
House Bill introduced to study how U.S. policies affect Americans overseas
FAWCO is happy to announce that Reps. Carolyn Maloney (D-NY) and Mike Honda (D-CA), have introduced H.R.597, legislation to create a Federal commission to study the impact of government policies upon the millions of Americans living overseas.
"Americans living and working abroad are our country's informal ambassadors and help strengthen the U.S. economy and promote American influence. Yet they too often suffer from an 'out-of-sight, out-of-mind' mentality within government, Maloney said. "Overseas Americans pay their taxes and vote like the rest of us. Their concerns about how their government interacts with them deserve to be heard-- and paid attention to-- here in Washington, and that's what this bill would do.
"With its large proportion of members who are long-term residents overseas, FAWCO has endeavored for years, if not decades, to ensure that Washington legislators understand the unfortunate situation of patriotic, law-abiding citizens living and working abroad who suffer under the impact of laws actually designed to identify and punish tax evasion within the United States or which unintentionally disenfranchise overseas voters. We have high hopes for the potential of this Commission, said Lucy Stensland Laederich, U.S. Liaison, Federation of American Women's Clubs Overseas (FAWCO).
FAWCO at Overseas Americans Week 2013
FAWCO US Liaison Lucy Stensland Laederich and US Tax & Banking Chair Margaret Spethman are in Washington with their colleagues from AARO and ACA for the annual Overseas Americans Week. In addition to talking to their own legislators about the problems faced by their overseas constituents, OAW delegates have some 75 meetings during the week with staffers on key committees dealing with tax and banking issues and with voting from overseas. They will also meet with State Department representatives and senior staff of the National Taxpayer Advocate.
One of the key objectives of OAW this year is to garner support for the newly introduced Commission on Americans Living Abroad Act (HR 597), just introduced by Representatives Carolyn Maloney and Mike Honda to coincide with the week-long event. The Commission's purpose is to study how Federal laws and policies affect United States citizens living in foreign countries.
FAWCO members are only too familiar with many of those impacts, and are urged to contact their legislators to ask them to co-sponsor HR 579 early in this new Congress.
Click
POSITION PAPERS
to read the 2013 Overseas Americans Week position papers on a range of issues
from tax reform to ratification of CEDAW, election reform and FATCA-related problems such as IRS reporting requirements on financial assets abroad
.
President Obama Signs New Directive to Strengthen our Work to Advance Gender Equality Worldwide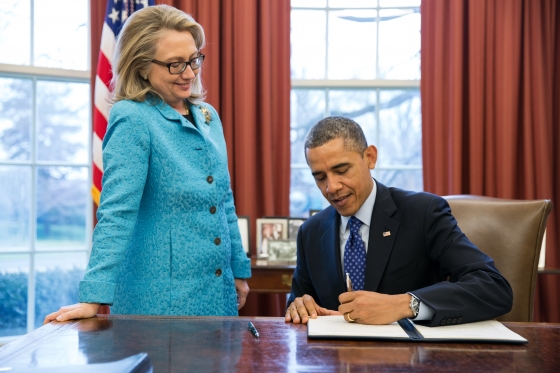 FAWCO is pleased with President Obama's recent move to support gender equality around the world. On January 30, 2013, President Obama signed a
Presidential Memorandum
to strengthen and expand U.S. government capacity and coordination across all agencies to better promote gender equality and empower women and girls.
Please download the memorandum
here
, and find the Valerie Jarrett and Samantha Power blog post
here
.
Please feel free to share this post with your networks, and to follow Valerie Jarrett, Chair of the White House Council on Women & Girls, on Twitter "@vj44."
Voting WAS easier in 2012!
According to the post-election survey conducted by FAWCO partner Overseas Vote Foundation (OVF), the overseas voting process was clearly improved in the first full federal election since passage of the Military and Overseas Voter Empowerment (MOVE) Act of 2009.
An article by Brian Knowlton in the New York Times shows that while a little over 20% of UOCAVA voters were still unable to vote due to ballots that were late or not received, increased use of technology by both voters and elections officials did make the difference for many voters. More than half, for example, received their blank ballot electronically.
Click here to see the full NYT article by Brian Knowlton.
FAWCO thanks the many people who used the FAWCO website to participate in the OVF post-election survey!
<< Start < Prev 1 2 3 4 5 6

7

8 9 10 Next > End >>


Page 7 of 35