Founded in 1931, FAWCO is an international network of independent volunteer clubs and associations. There are 75+ member clubs in 40 countries worldwide, with a total membership in excess of 15,000. FAWCO serves as a resource and channel of information among its members, promotes the rights of U.S. citizens overseas; is active as a Non-Governmental Organization (NGO) with consultative status to the UN Economic and Social Council; and contributes to the global community through its Task Forces and The FAWCO Foundation, which provides development grants and education awards. FAWCO and The FAWCO Foundation also collaborate on emergency funding for disaster relief.
Read FAWCO Blog from CSW 2013
FAWCO Celebrates International Women's Day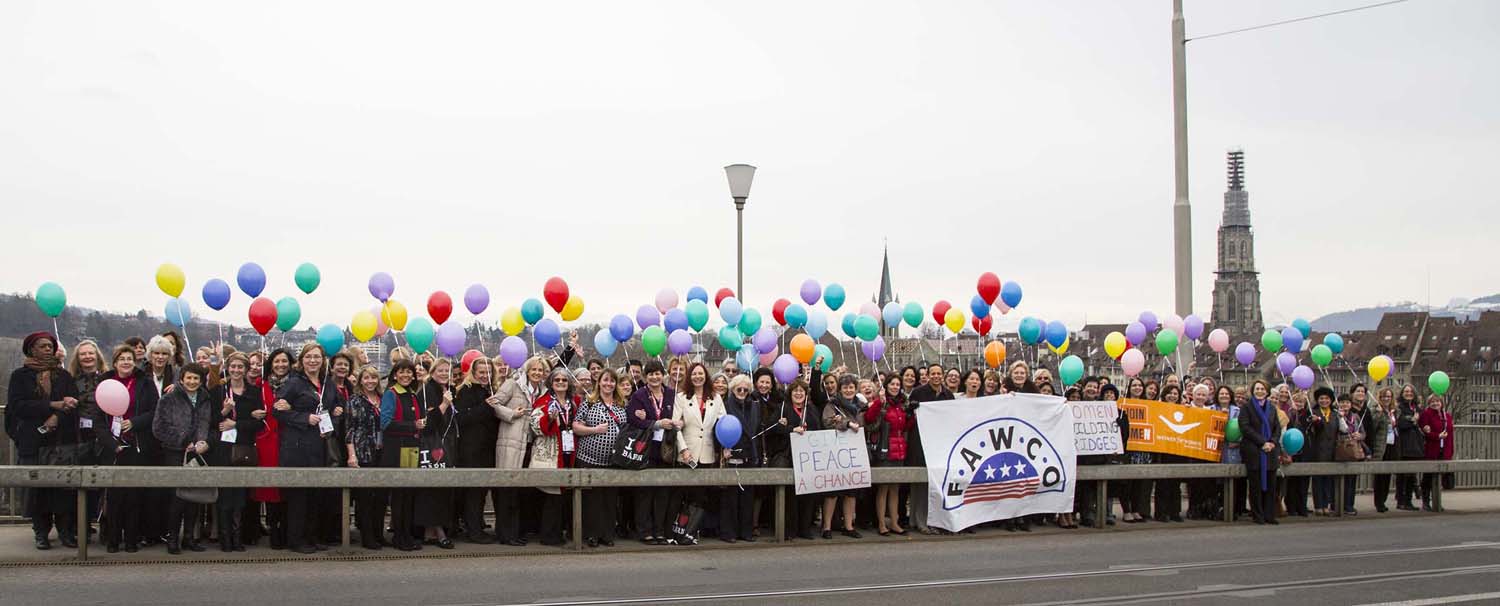 Participants at FAWCO's biennial conference celebrated International Women's Day with a variety of empowering activities. The conference attendees began the day with workshops on topics such as active aging, maternal health, climate change, and The FAWCO Foundation's charity updates. The morning's first conference session immediately followed and featured an inspirational address from U.S. Ambassador to the United Nations in Geneva Betty E. King.
VAWA now law - but your legislators need to hear from you!
Not happy that your representative voted AGAINST the Violence Against Women Act that the president just signed into law? Tell him! Find email templates here - http://4vawa.org/ Please THANK your representative if he or she voted in favor of renewing this legislation. Sadly, American women living overseas still will not benefit from these protections...
Good news from Washington (for a change)
On Thursday, February 28, the House voted to approve the already passed Senate version of the Violence Against Women Act (VAWA) which, though not perfect and despite the fact that overseas Americans were absent from the act, did not include last-minute tweaks that could have seriously weakened it.
Following the 236 to 138 vote, the bill now heads for the White House and President Obama's signature.
While overall VAWA funding was down since its last reauthorization in 2005 and, despite calls from FAWCO and its long-standing partner organization AODVC, funding was still not included for victims of domestic violence overseas, its passage in today's Congress must be seen as a victory for women's rights.
Click here for the full article in the February 28 Washington Post.
FAWCO Joins World YWCA to end child marriage
As an organization dedicated to women's rights, FAWCO has signed The World YWCA petition to end child marriage and urges other organizations and individuals to lend their support. Sign on and share! The World YWCA will be bringing a petition to the 57th Session of the UN Commission on the Status of Women, for a Resolution to End Child Marriage within a generation. They are inviting you, as organisations and individuals to lend your voice to this effort. The World YWCA is co-hosting a High Level Panel on Child Marriage on the 7th of March in New York, where the petition to the Liberian Ambassador to the UN, who is the Chair of the CSW Bureau, will be presented. The online sign-on facility is now activated, and The World YWCA can be contacted at This e-mail address is being protected from spambots. You need JavaScript enabled to view it . If you would like your organisation to be featured in this effort, kindly email your logo, and a short message to the above email. FAWCO continues to strive for human dignity and protection of human rights and urges the same.
Click here for Nyaradzayi Gumbonzvanda of The World YWCA's call for support.
<< Start < Prev 1 2 3 4 5

6

7 8 9 10 Next > End >>


Page 6 of 35