Founded in 1931, FAWCO is an international network of independent volunteer clubs and associations. There are 75+ member clubs in 40 countries worldwide, with a total membership in excess of 15,000. FAWCO serves as a resource and channel of information among its members, promotes the rights of U.S. citizens overseas; is active as a Non-Governmental Organization (NGO) with consultative status to the UN Economic and Social Council; and contributes to the global community through its Task Forces and The FAWCO Foundation, which provides development grants and education awards. FAWCO and The FAWCO Foundation also collaborate on emergency funding for disaster relief.
Region 3 (France) FAWCO Meeting - C'est Formidable!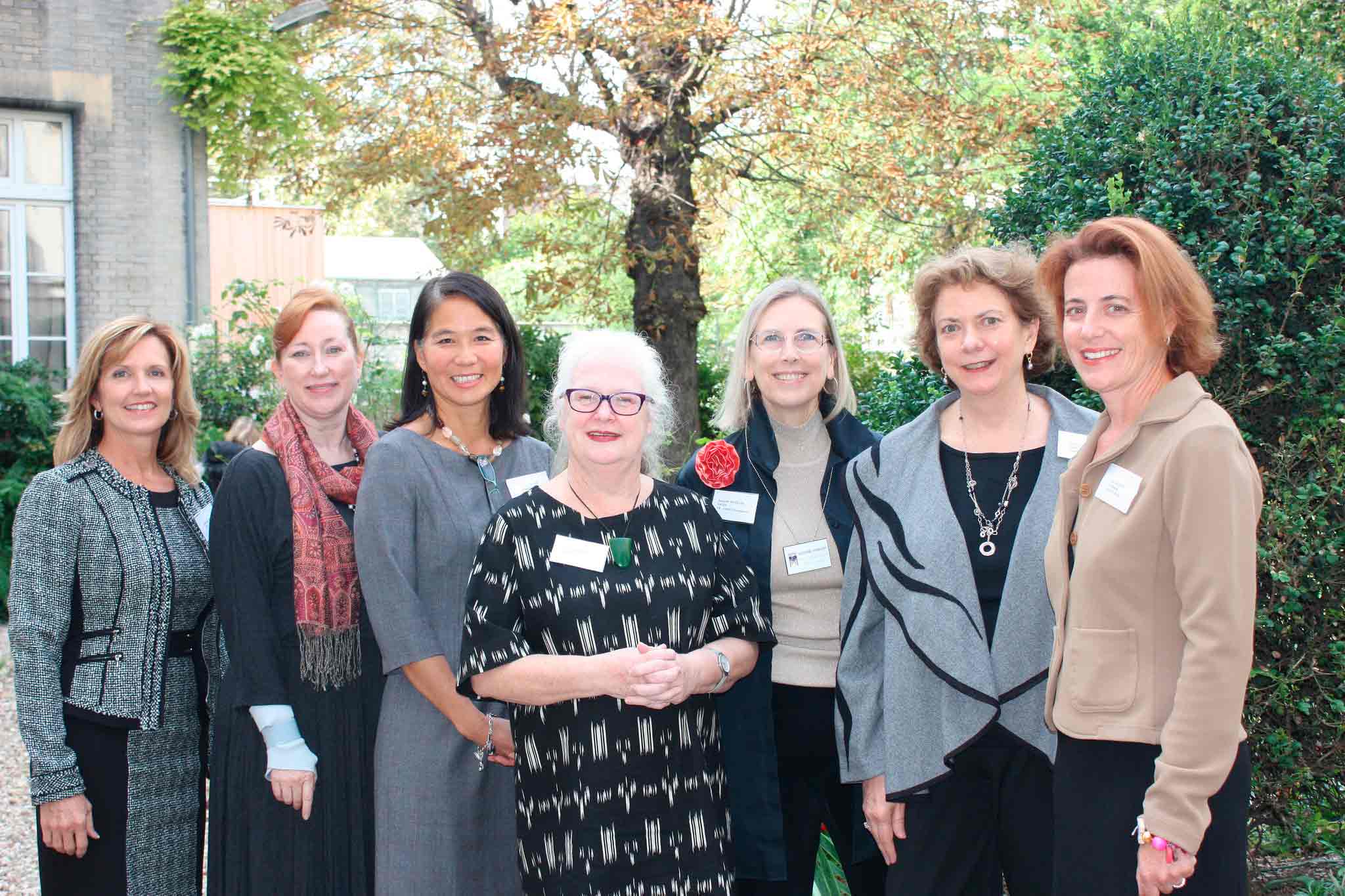 FAWCO's Region 3 (France) regional meeting, hosted by AAWE Paris took place in Paris this past weekend of September 20-22, 2013. Over 50 participants came from the region (AAWE Paris, AWG Paris, AWG Languedoc-Roussillon) as well as guests from Bordeaux Women's Club and FAWCO clubs from Brussels, Berlin, The Hague and Zurich. FAWCO presentations, break out group discussions on club issues and an excellent talk on the post-2015 Gender agenda by Ms. Patti O'Neill (Co-ordinator of the DAC Network on Gender Equality, Global Policies and Partnerships Division, Development Co-operation Directorate, OECD) made for an empowering and content-rich meeting. Participants left energized by new friends and new ideas. Thank you to AAWE for a perfect meeting! Your team was formidable! Click below for presentations, photos and videos.
New Development Grant Announced
THE FAWCO FOUNDATION ANNOUNCES ADDITIONS TO THE DEVELOPMENT GRANTS FUND AND EDUCATION AWARDS PROGRAMS FOR 2014.

"Water Runs Through It", a Development Grant promoting the responsible use of water to provide for the basic needs of a community and "IT for Young Women" an Education Award for the study of information technology, have been added to the list of offerings by The FAWCO Foundation.

Click here to find out what you need to know on the Foundation website where you will find the application forms, guidelines and other important information about the 2014 Development Grants and Education Awards.
FAWCO Youth Cultural Volunteers in Dubai -
The inaugural program for the FAWCO Youth Cultural Volunteers - hosted by AWA Dubai has just concluded. The week-long program (July 16-23, 2013) was attended by seven FAWCO teens from Germany, the Netherlands, Ireland, Switzerland, and the United Kingdom. The teens were hosted in AWA Dubai members' homes and had the opportunity to do hands-on volunteer at three different local charities. Participants also made new friendships with Emirati youths who were volunteers from the Sheikh Mohammed Centre for Cultural Understanding. In the words of Julia Goldsby (AIWC Cologne): A plaque inside the Burj Khalifa states this: "I am the life force of collective aspirations and the aesthetic union of many cultures. I stimulate dreams, stir emotions, and awaken creativity." For cross-cultural teenagers everywhere these words inspire us to work together. Please contact This e-mail address is being protected from spambots. You need JavaScript enabled to view it for more information. Click to see video prepared by the participants.
FAWCO Launches Youth Cultural Volunteers Program
(July 5, 2013–Dubai, UAE)
FAWCO is proud to announce the launch of FAWCO Youth Cultural Volunteers in support of the UN's initiative to engage today's youth and raise their awareness of social issues and cultural diversity. The inaugural project in Dubai will be hosted July 16-23 by AWA Dubai families. Seven children of FAWCO club members between the ages of 15 and 17 will travel from The Netherlands, Ireland, England, Germany, and Switzerland to participate in the program's launch. They represent the American Women of Surrey, American Women's Club (AWC) of Bern, American International Women's Club (AIWC) of Cologne, AWC Dublin, AWC The Hague, and AWA Dubai.
A diverse cultural program has been developed for the FAWCO Youth Volunteers, including meeting and interacting with local Emirati youth from the Sheikh Mohammed Centre for Cultural Understanding. The Centre "is a non-profit organization established to increase awareness and understanding between the various cultures that live in Dubai. Operating under the banner of Open Doors, Open Mind, the SMCCU strives to remove barriers between people of different nationalities and raise awareness of the local culture, customs and religion of the United Arab Emirates." In this way the participants' local hosts will introduce the sights and sounds of Dubai and share their customs and traditions of Ramadan, the Islamic month of fasting, which include abstaining from food and water from sunrise to sunset.
Your trip to the US can benefit 6 million overseas!
When was the last time you visited your Congressperson?
Are you going to be in your "hometown" this summer, i.e. your voting district? Ever thought about going to your Congressperson's "district" office (which is just as good as going to the DC office)? Well, why would you want to do that?
In addition to a new experience (for you, and possibly for a teenager in your family), you can help to "put a face" on your Congressperson's overseas constituency! A visit to the district office brings home even more powerfully than one to DC how you maintain ties with family, friends, and roots in the United States!
Here are a few ideas on making your appointment and what you might say once you are past the door…
<< Start < Prev 1 2 3

4

5 6 7 8 9 10 Next > End >>


Page 4 of 35